Slapdash Flimflammery

5 playwrights, 5 directors, 15 actors, 24 hrs. Maybe someone else can come up with something pithy too say about this incredible experience. I can, however, include the poster art.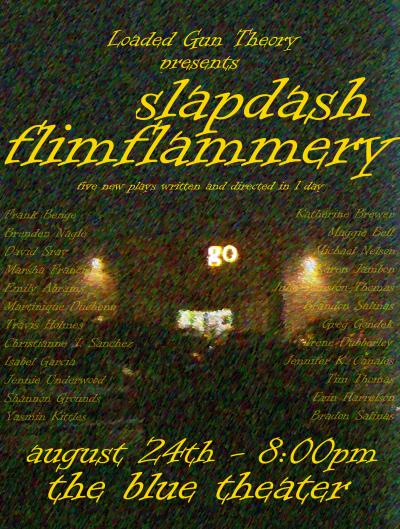 Here's our front page news on it:
Sladash Flimflammery is over…
Posted on 25th, August 2002 at 6:28PM by Loaded Gun Theory
It was quite the experience, and after 44.5 hrs awake I can truly say it was an intense one. Thanks to everyone who made this possible, and thanks to the audience for coming to see it.
Heading out…
Posted on 23rd, August 2002 at 7:49PM by Loaded Gun Theory
We're about to head out to the theater. We're going to be incommunicado for a while so hopefully you got your reservation in. If not show up early! We're excited about seeing all of you. Oh yeah, and freaking out of our minds!
8:00pm Saturday @ the Blue Theater! Don't be late!! Slapdash Flimflammery – THIS Weekend!
Posted on 22nd, August 2002 at 5:02PM by Loaded Gun Theory
It's here, folks. This Saturday night at 8PM. The Blue Theater. Slapdash Flimflammery. Make your reservations now!
Now taking Reservations for Slapdash Flimflammery!
Posted on 9th, August 2002 at 8:14PM by Loaded Gun Theory
Loaded Gun Theory has implemented a reservation system. You can get there by clicking here, or we've added a convenient link on the right menu bar! Get your tickets today, it's one show only and they're sure to go fast.
Slapdash Flimflammery
Posted on 25th, July 2002 at 8:07AM by Loaded Gun Theory
Take five writers and lock them in a dark and spooky theater all night. By 7AM, five short scenes are written, workshopped, and re-written to perfection. Directors arrive at 7AM. Actors arrive at 8AM. Three actors per scene. Lunch, dinner, and caffeine will be provided. The show is staged in front of a live audience at 8PM.
That, my friends, is Slapdash Flimflammery. And it all happens August 24, 2002 at the Blue Theatre