Little Murders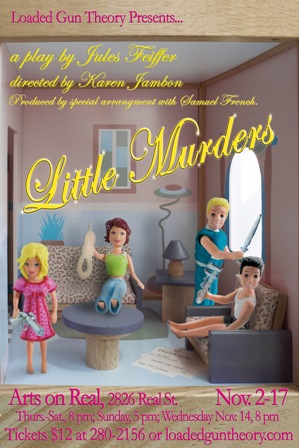 Written by Jules Feiffer
Directed by Karen Jambon
November 2-17 Thursday-Saturday at 8pm,
Sunday at 5pm Special Wednesday show on November 14th at 8pm Tickets $12 At
Arts on Real
Click here to make reservations
now, or call 512-280-2156.
The Newquists are your typical American family: Mom is overbearing and belittling, Dad is milquetoast but don't call him Carol (even though it's his name), Brother likes to wear Sister's shoes and Sister wears the pants in her relationship with her fiancée Alfred, who knows how to roll with the punches: he figures if you daydream while being mugged, it won't hurt so much. As their neighborhood is besieged by snipers taking out random citizens, the real violence goes down in their apartment. Join LGT for their first foray into non-original work with a script that still has that LGT edge.
produced by special arrangement with Samuel French, Inc.