Currently Austin is governed by a set of standards. We have base zoning which says where you can build single-family homes and where you can build businesses. Then we have overlays such as the waterfront overlay, that says that your building has to be short near the waterfront. Then we have FLUMs and Neighborhood Plans on top of that.
FLUMs (Future Land Use Maps) and Neighborhood Plans were created by neighborhoods in a lengthy neighborhood process about a decade ago. From all accounts it was a horrible process. No one was happy with the results, and it was horribly unrepresentative.  In my neighborhood with 40,000 residents the meetings didn't yield more than 100 participants. Many of those participants no longer live in the neighborhood and the intent of large pieces of the plan is no longer understood. Yet you still see people defending adhering to them.
A great example of why we need to chuck them is the East Riverside Corridor. One of our priorities that was set at the time was to get the Lady Bird Lake Boardwalk implemented. Mission accomplished! We did it. High fives. When I went to ask the city to remove it from our plan requirements they said they couldn't do so without going through a massive neighborhood amendment process (multiple stakeholder meetings, etc). Things that are complete cannot be removed.
Currently the East Riverside plan has target increased density along East Riverside near the planned rail transit stations. These are the areas in peach below.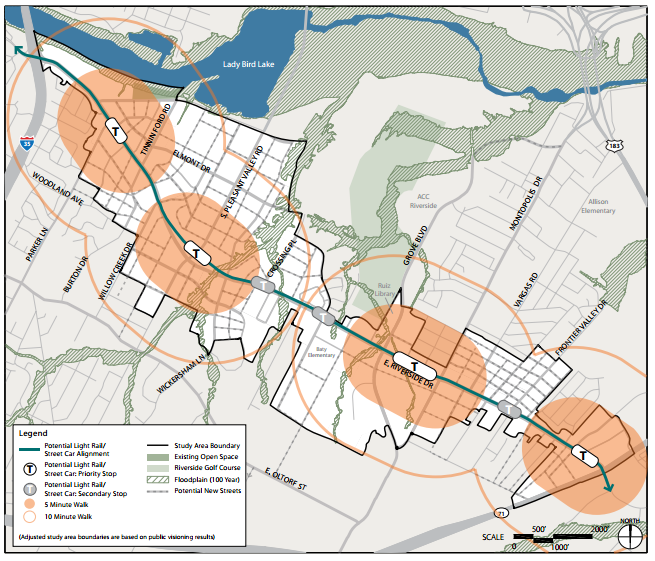 Now whether you agree with that or not, you may be asking yourself – "What if the Rail Bond fails at the polls?"
That's exactly the problem. The neighborhood plan doesn't change. We still have these weird density pockets around non-existent train stations. And what about maybe filling in the white spaces in between so that they match the tall buildings that are built? Nope. No change. That will require a neighborhood plan amendment process with multiple stakeholder meetings. So without rail Riverside just gets left with a weird neighborhood plan they can't change.
We have roads and buildings that don't appear on our maps and can't be trivially added.
That doesn't even get into the Future Land Use Maps (FLUMs). FLUMs are basically fantasy maps. Dreams of a small group of shareholders a decade ago. In many cases they include less affordable and multifamily housing than currently is in the base zoning. So FLUMs are already making Austin more expensive.
It's time to chuck neighborhood plans and FLUMs. Let's get a better system where it's easy to build affordable housing. Where we can easily adapt to allow nice things in our neighborhood, and where people who haven't lived in a neighborhood for decades have a seat at the table.